NICK RODMAN LEGACY FOUNDATION
Always in our Hearts • Never Forgotten
Officer Nick Rodman • EOW: March 29, 2017
The Nick Rodman Legacy Foundation is a non profit organization dedicated to honoring Officer Nick Rodman's sacrifice. Nick's legacy will carry on forever as we support and give back to those in need within the Louisville community- the city Nick was born and raised in and died while protecting. The city he loved and respected with his whole heart.

Always in our Hearts. Never Forgotten
Officer Nick Rodman
EOW: March 29, 2017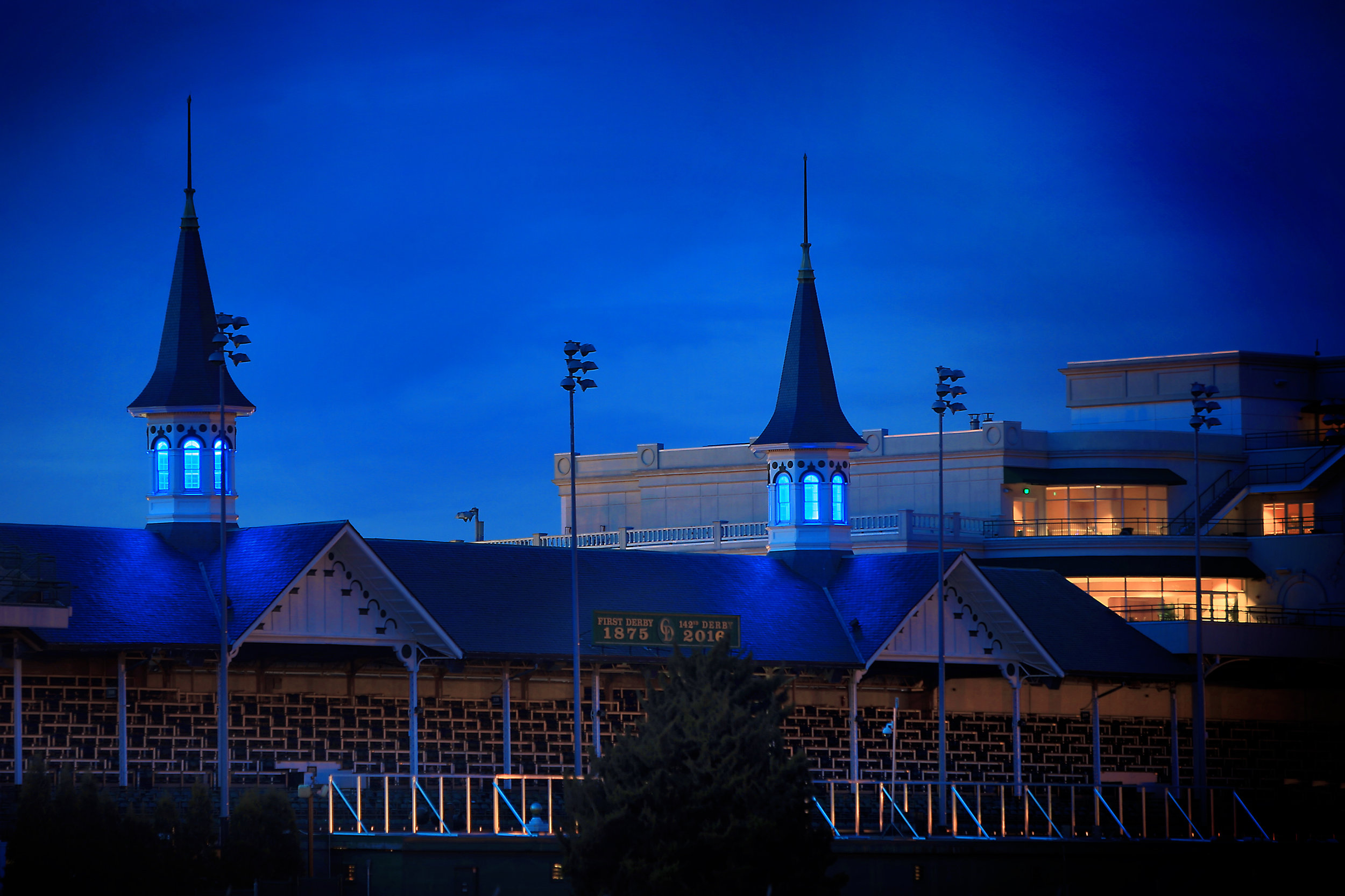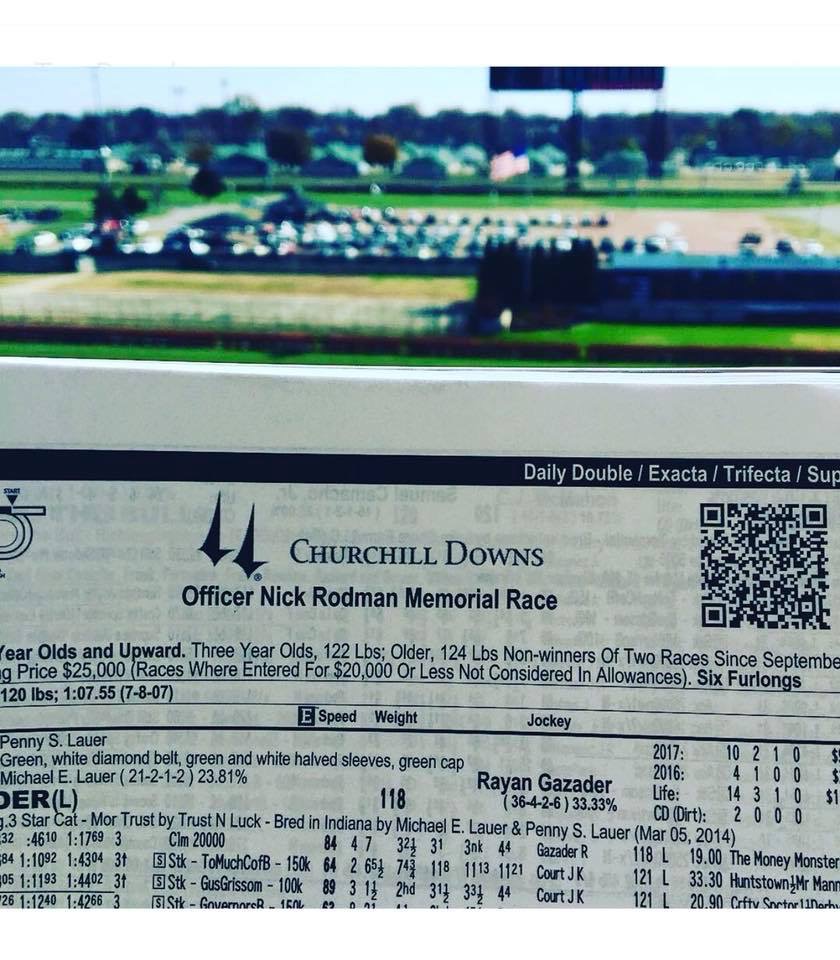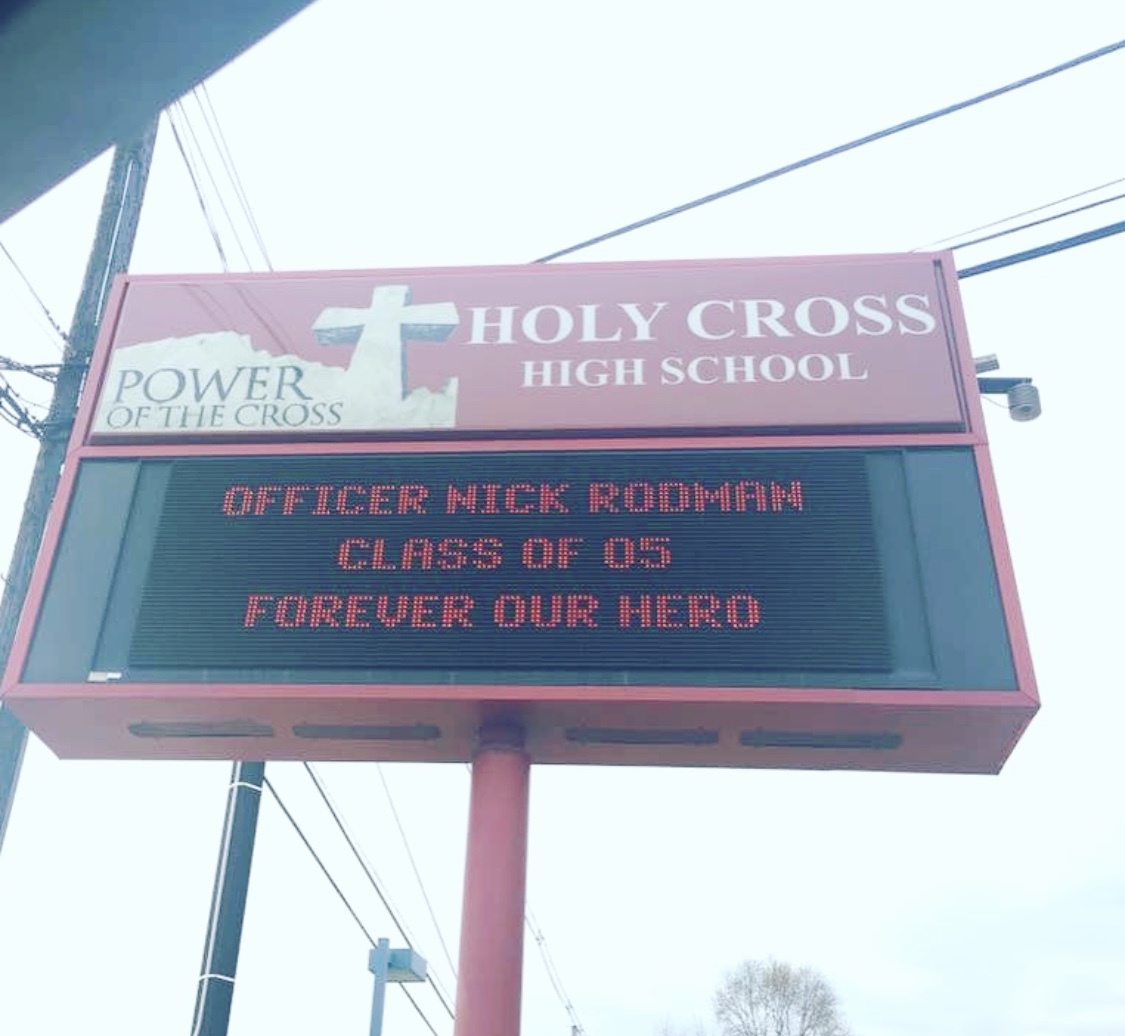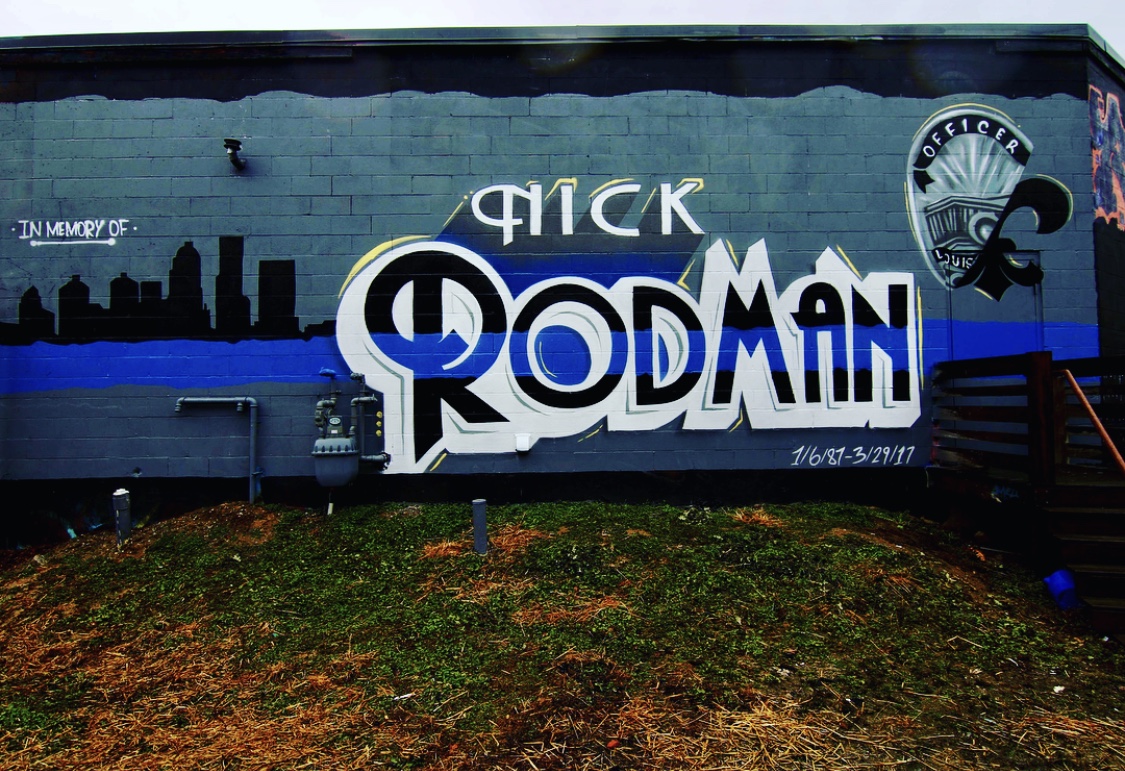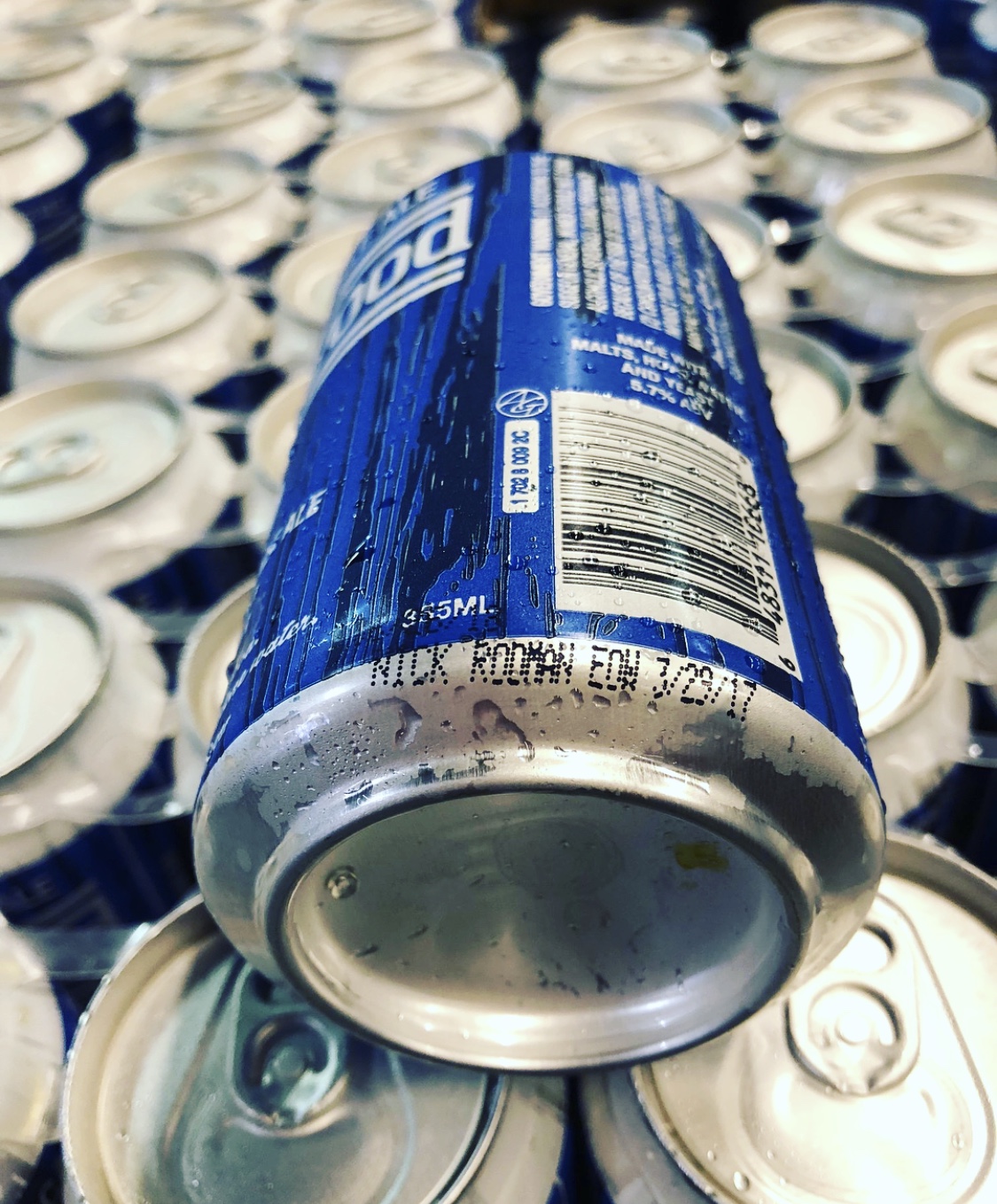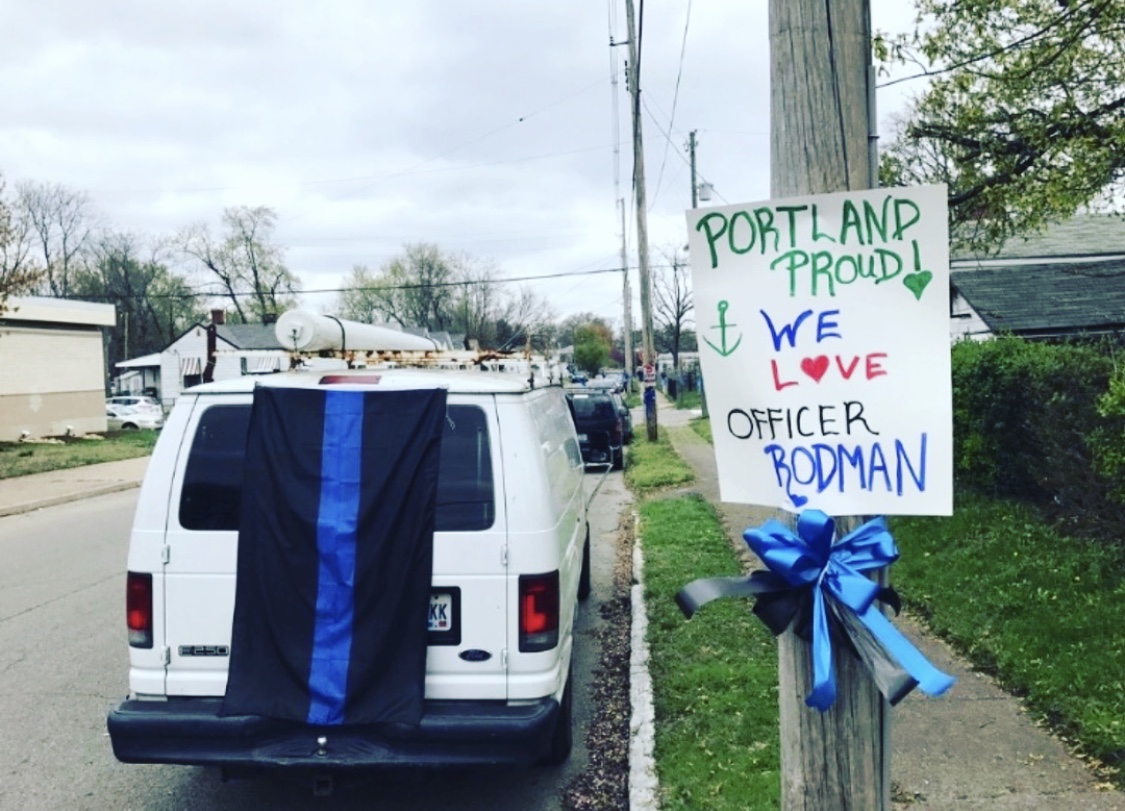 Nick Rodman was as close to perfect as you could get in every aspect of his life. Nick was the most loving and amazing husband and father to his sweet babies. He had a tight knit bond with his parents. His brother was his best friend and he was your typical overprotective older brother to his younger sister. Not only was he born and raised in Louisville, but he made a career out of serving the city he loved. He was a gentle and calming soul, that would stop at the drop of a hat to help anyone. Nick never met a stranger, whether you met him for five minutes or knew him for years- it felt like a lifetime. Nick gave his all, in life and in death, making the ultimate sacrifice for the city and the people he loved.
Nick attended Holy Cross High School where he excelled in the classroom and on the field. He made the All-District and All-Regional teams in football and competed at an all-star level as a soccer player. After graduating high school with a 4.0 GPA, Nick went on to attend Georgetown College. During his college tenure, Nick was the Vice President of the Pi Kappa Alpha Fraternity and graduated with a Bachelor of Science in Kinesiology.
While attending Georgetown College Nick met the love of his life, Ashley. After graduation, Nick and Ashley moved back to Louisville with their two fur babies, Mojo and Lily. Home is where the heart is, and Nick's heart was in Louisville. Louisville is where he wanted to live, start a family, and raise his children and that is just what he did. Nick and Ashley were married in September 2013 during the most beautiful wedding ceremony surrounded by so much love from family and friends. Their family quickly grew after their wedding by the birth of their son, Mason. Two years later, they welcomed sweet Ellie Jean.
Nick loved his family and friends more than anything in this world. He was the life of the party and often arranged plans for everyone to come together. He enjoyed going to the track, whether it was to Churchill Downs or Keeneland. Nick loved taking his family to the zoo or going on walks to the park. Nick was so smart and it came naturally. He was the guy who never studied for a test and would still get an A. He put that amazing memory to good use and remembered every line of every movie he ever watched and would find any opportunity to bust out a good movie quote. He had a love for music, enjoyed going to concerts, and was proud of his record collection. Nick loved to cook and was quite the grill master. Summer nights usually ended with his family going to get ice-cream together.
The University of Louisville Cardinals was undoubtedly his first love. He enjoyed tailgating at every sporting event. As each game day approached you could hear Nick talking about the Cards and what was needed for the win. His love for the Cardinals was never more evident than in 2013 during their National Championship run. Claiming that it would help the Cards win, Nick would wear the same shirt without ever washing it and grew what he called his "tournament beard." He teared up when they won it all.
After planting his own roots in the City of Louisville, Nick knew that he wanted to do more. In December 2013 he joined the Louisville Metro Police Department where his father and younger brother had already begun their careers. Upon completion of the police academy he was placed in the 1st Division where he patrolled the neighborhoods of Portland, Russell, the Beecher Terrace Housing Complex, Nulu, and Downtown Louisville. He loved his job and took pride in protecting the city he loved so much.
On March 28th, 2017 everything changed in a matter of minutes. Nick kissed his wife, two year old son, and newborn daughter as he headed out the door for his shift He told his wife that he loved them and that he was hoping for nice weather when he would return home from his shift so that they could go to the zoo together and then he left. Nick walked into the division that night as he always did, with a smile on his face and ready to work. Not long after his shift started, a call came over the radio about an armed suspect fleeing a domestic in a motor vehicle after shooting several times at the victim. Rushing to the aid of his colleagues, Nick came upon the fleeing suspect coming the opposite direction. Before Nick could attempt to stop the fleeing suspect, the suspect violently struck Nick's police cruiser while he was attempting to make a left turn with his lights and sirens on. Fighting for his life, Nick was rushed to the hospital by his colleagues in a police cruiser. On March 29th 2017- Louisville Metro Police Officer Nick Rodman was killed in the line of duty at the young age of 30. Leaving behind his wife, 2-year-old son, and newborn daughter.
After Nick was killed, stories started to pour in from the community explaining what kind of person he truly was. Upon hearing of his death, a local man shared a story about the time he was arrested by Nick for an assault. He explained it was Nick's words during the commute to jail that helped turn his life around. A woman went on to tell how she was walking in the cold, seven months pregnant, hungry, and clearly distraught after an argument with an ex-boyfriend. Nick stopped to check on her, providing her with fiber bars he kept in his police cruiser. She went on to explain she would never forget Nick's name, face, or the impact he made on her and her unborn child's life. The woman finished by stating Nick single handedly restored her faith in humanity. This was the type of police officer Nick was. He probably wasn't even aware of the impact he had on people. Nick was so humble and did the right things just because that is what he truly believed in. Nick Rodman believed in this city and the people that call this city home.
The loss of Nick has impacted a family, friends, and an entire city. Nick truly had a heart of gold and he cherished the relationships he had with those he encountered. He was a husband, father, son, brother, grandson, uncle, cousin, friend, and colleague. Nick Rodman left behind an irreplaceable hole in hearts of many, but through this very foundation his work and legacy will carry on forever.
When Nick was killed in the line of duty, it was almost like the entire city of Louisville was mourning so deeply with us. The amount of love and support that we still receive even two years later is beyond amazing. Nick loved this city. He was born and raised in Louisville. He loved Louisville so much that he convinced me to move here and start our family. And then he was killed while protecting the city he loved and adored. Losing Nick and living this life without him has been incredibly painful, but I know that he would be so proud of our community. The way family, friends and even strangers have stepped up to support and love on myself, our kids and our family has been absolutely beautiful.

While writing my victim impact statement for court, I shared with everyone how devastated our family has been without him in our lives and how this pain will always be there. A hole in our hearts that will never be filled. My husband and love of my life is forever gone. Our very young kids living a life without their dad. His parents lost a son. His brother and sister without their older brother. Grandfather, aunts, uncles, cousins, and young nephew all without Nick. Our friends from all over- his childhood friends, Holy Cross high school buddies, our Georgetown College friends, his squad and brothers/sisters in blue all hurting so deeply. So many of us are feeling Nick's absence and it's been extremely difficult for us all.

I also shared a few stories from people that Nick had helped while he was at work and then it hit me. Not only did we lose Nick, but an entire community lost Nick. The amazing things he did in his short three and a half year career as a police officer. The impact he made on people. I'm not even sure he knew how big of an impact he had on people. He was the most humble person I've ever met. And just like everything else in this life without Nick, it made me extremely sad for this city to lose such an amazing police officer that cared so deeply for the people in this community.

All of that leads us to where we are today. With a huge leap of faith, love, hard work, tears, and support from family and friends- I decided to start a nonprofit organization in honor of Nick's beautiful life while supporting and helping those in need. Now more than ever, I understand the importance of people supporting and loving on each other during hard times. In our darkest moments, the community of Louisville stepped up to help me and our family- whether it was showing their presence at an event, signs that were made, blue ribbons tied on trees along Southern Parkways, donations, sending letters and cards, attending a fundraiser, items sent to myself and the kids, or items given for the benefits. It is important for me to now return the favor. To say thank you to the community of Louisville for loving Nick and for taking care of us in our darkest times.

I'm so thankful for our board of directors who have already spent so much time and hard work into making my vision a reality. We are a close knit group of family and friends who are extremely passionate about our love for Nick and helping those most in need. With this group, I see this nonprofit organization doing big things and I believe with every part of my being that Nick would be so proud.

Everyday I strive to be the best version of myself. It's definitely not perfect. It's messy in every possible way, but every day I choose to keep living life despite our circumstances- for myself, for our kids and most importantly for Nick. There is no bringing him back and that is absolutely devastating, but we can choose to channel our grief in a way that can help others by bringing to life the Nick Rodman Legacy Foundation.

Thank you everyone for all the love and support you have shown me and our family. It means more than you all will ever know.

Love always,
Ashley Rodman
(Wife of Nick Rodman)